An exploration of modern spirituality and idolatry that utilizes the dieties of an ancient religion, inherent reverence of celestial phenomenon, and the likenesses of current celebrities.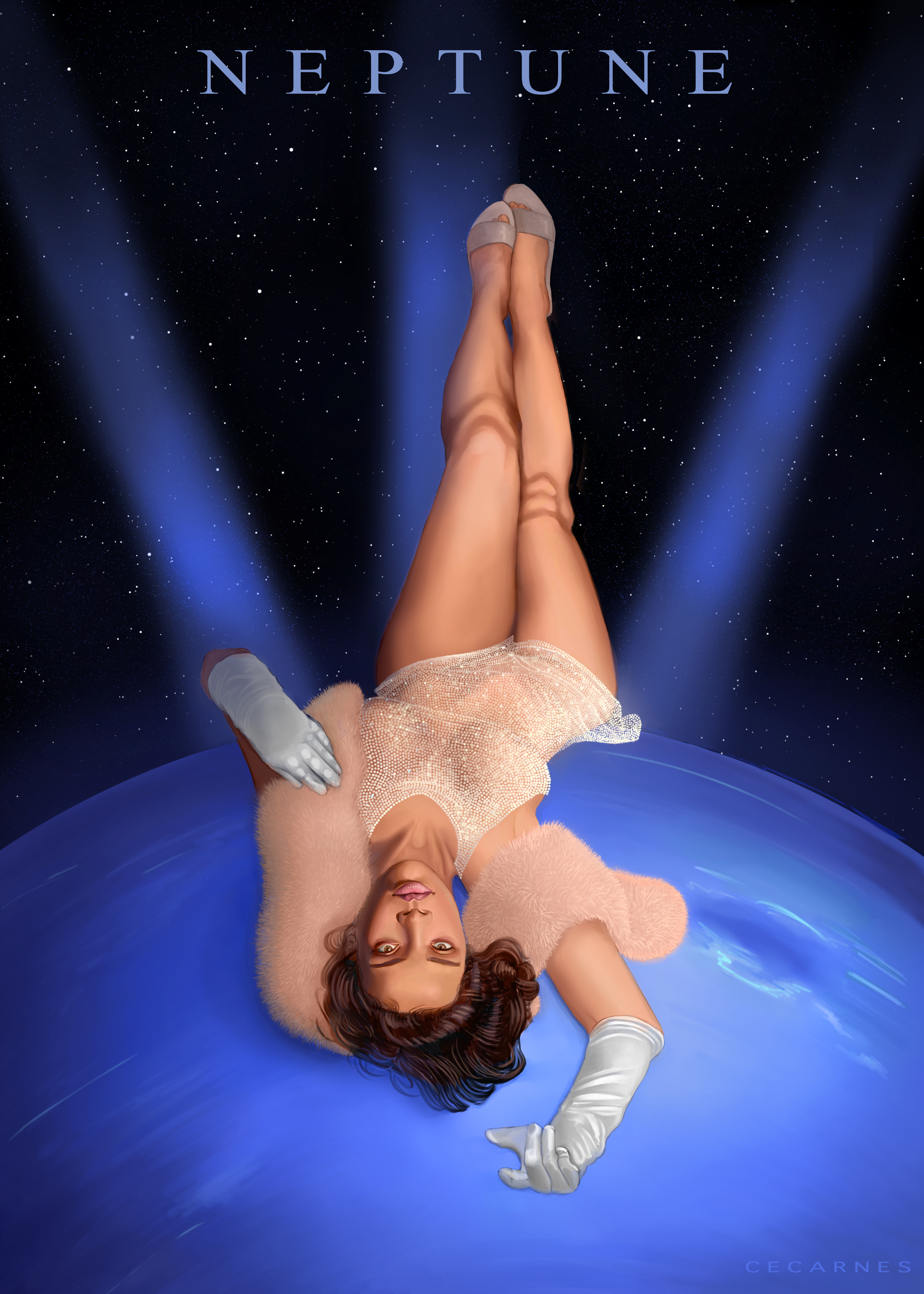 The Planet

The planet closest to our sun, Mercury is now considered the smallest planet in our solar system. Due to its proximity to the sun, Mercury is tidally locked and has a uniquely slow rotation around its axis. This means that despite each Mercurian year lasting About 89 Earth days, a day on Mercury would cover approximately 59 days on Earth.


The God

One of the major gods of the Ancient Roman pantheon, Mercury presided over travelers, communication, commerce, and trickery. Son of the Oread Maia and the god Jupiter, his most common symbols include his caduceus, winged sandals, and winged hat. In Roman mythos, Mercury also served as the one to guide souls to the underworld.


The Icon

Trevor Noah, born in 1984 in Johannesburg, South Africa, is a comedian, writer, and television host. Born of a black mother and white father during the waning years of South Africa's apartheid legislation, Trevor Noah has since gone on to become one of South Africa's most prominent comedians and has performed stand-up all over the world. In 2015, Noah succeeded John Stewart as host of The Daily Show, adding his unique look to America's array of political commentary.

The Planet

Second planet from the sun, Venus is the closest to Earth in terms of size. The clouds that cover Venus are composed of sulfuric acid and the atmosphere, 92% heavier than Earth's, is more than 96% carbon dioxide. The surface of Venus is a barren, rocky landscape occasionally interspersed with volcanic activity.


The God

Venus is the goddess of love, beauty, and sex. Although there are two recorded versions of her origin in Greco-Roman mythology, the most popular stems from Hesiod's Theogony. In it Hesiod recounts how Uranus's severed genitals upon falling into the sea "were carried over the sea a long time, and white foam arose from the immortal flesh; with it a girl grew," giving rise to the goddess Venus.


The Icon

Taylor Swift, born in 1989 in Reading, Pennsylvania, is a singer-songwriter known for her narrative songs usually about her personal life. Swift begun her career at age 14 in country music, and though she quickly topped the country music charts, it wasn't until her third album debuting a more pop sound that she gained national recognition for her work. Since then, Swift has become a tabloid favorite due to the high turnover rate of significant others featured in her personal life.

The Planet

Fourth planet from the sun, Mars' surface is comprised of iron oxide (rusted iron), which gives it the distinctive red coloring it is known for. Despite the fact that Mars has little atmosphere, water in the form of ice can be found at its polar caps as well as underground. Because of this, scientists believe that Mars may carry evidence of extraterrestrial life.


The God

One of the 12 Olympians, Mars was the god of war, destruction, and masculinity. Unlike his Greek equivalent, Ares, who was mainly seen as a destructive force, Mars was a symbol of unity. In terms of importance, Mars was second only to Jupiter and was the most prominent of the military gods.


The Icon

Kanye West, born in 1977 in Atlanta, Georgia, is a rapper, songwriter, and record producer. Despite having produced hit singles for names like Jay-Z and Alicia Keys as well as having a critically acclaimed solo career as a rapper, West is best known for his controversial views on US politics and race as well as his behavior at award shows and in public settings. From criticizing George W. Bush to wearing a MAGA hat on SNL, West always seems to find a way to ruffle as many feathers as he can.

The Planet

Fifth planet from the sun, Jupiter is the largest planet in our solar system. Being a gas giant,
it does not have a solid surface under its cloud layer. It's famous for the large red mark in its southern hemisphere, which is believed to be an anticyclonic storm 1.3 times the diameter of Earth.


The God

King of the Ancient Roman pantheon, Jupiter was the god of the sky and thunder whose weapon of choice was a lightning bolt. According to Greco-Roman mythology, Jupiter is the
son of the Titans Saturn and Opis, and his marriage to the goddess Juno produced the four godly children: Mars, Vulcan, Bellona, and Juventas.


The Icon

Beyoncé Giselle Knowles-Carter is a singer, songwriter, and dancer that was born on September 4th, 1981 in Houston, Texas. Though performing in many singing and dance competitions as a child, Beyoncé's first claim to fame was as the lead singer of Destiny's
Child. From there she went on to produce several chart-toping albums and become one of
the best-selling music artists of all time. Since 2013, Beyoncé has notably used her success
as a platform to promote the Black Lives Matter and 3rd Wave Feminism movements.